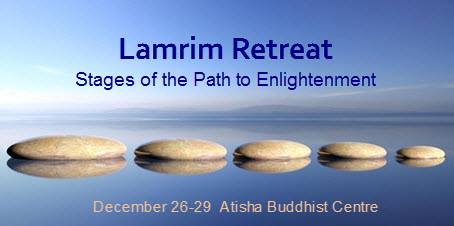 This year's holiday Lamrim retreat will explore Geshe Kelsang Gyatso's presentation of Lamrim from How to Understand the Mind.
Everyone is very welcome to join us for one, or any number of the sessions according to your time and inclination. You'll get a nice break from holiday responsibilities and develop calm, peaceful minds.
No charge for this retreat which will be held at Atisha Buddhist Centre, 1823 Gerrard Street East in Toronto. Donations are accepted.
Tuesday, Dec. 26
9:00-10:00am Meditation on the preciousness of our human life
10:30-11:30am Meditation on death
11:30-1:30pm LUNCH
1:30-2:30pm Meditation on the dangers of lower rebirth
3:00-4:pm Meditation on going for refuge
Wednesday, Dec. 27
9:00-10:00am Meditation on karma
10:30-11:30am Meditation on renunciation
11:30-1:30pm LUNCH
1:30-2:30pm Meditation on our determination to recognize, reduce and abandon our self-grasping ignorance, the root of samsaric rebirth
3:00-4:pm Meditation on our determination to enter and make progress on the path to liberation
Thursday, Dec. 28
9:00-10:00am Meditation on the ultimate truth of cessation
10:30-11:30am Meditation on cherishing all living beings
11:30-1:30pm LUNCH
1:30-2:30pm Meditation on universal compassion
3:00-4:pm Meditation on the supreme good heart, bodhichitta
Friday, Dec. 29
9:00-10:00am Meditation on our determination and promise to sincerely practise the six perfections
10:30-11:30am Meditation on training in yogic direct perceivers
1:30-2:30pm Wishfulfilling Jewel puja